There's some new data out on religion in America—it's even more on the decline.
In a recent article, Eastern Illinois University Professor Ryan Burge noted some fascinating findings from the Cooperative Election Study's raw data.
Year after year, all generations are inching toward less and less religion in their lives. In 2008, 17% of Boomers were nonreligious—now it's 26%. Over the same period, Gen X has gone from 25% to 35%, and Millennials from 33% to 44%.
Generation Z—Americans born after 1996—are the least religious generation in American history. 48.5% of them don't identify with a religion, and 18% explicitly call themselves atheists or agnostics. That's more than Catholics, at just 15%.
This is a seismic shift in American religion—and it's good for us and our influence on society.
During the 2022 midterm elections, we swung some key races. "[Nonreligious Americans] are making their presence felt," Associated Press journalist Peter Smith reported at the time. About four in five nonreligious people voted against abortion restrictions in referendums in Michigan and Kentucky, defeating these restrictions. And about the same percentage voted for Josh Shapiro, helping him beat self-described Christian nationalist Doug Mastriano 56% to 42%.
While these demographic changes favor us, we must not become apathetic. Christian nationalists are doing all they can to remake the law—and society itself—in their image.
That's why it's so important that we build our power—now. We must all step up and get involved to protect church-state separation and democracy itself from religious extremists.
You can do this.
Join one of our 230 local affiliate groups and encourage others to get involved in atheist activism. If there is no atheist group in your area, we can help you start one. If you are part of an atheist group but members are not yet doing activism, we can also help.
Know that we are always here to help you jumpstart your activism—or take it to the next level. If you need any help, respond to this email and let us know.
Sincerely,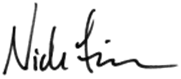 Nick Fish
President
P.S. In key states throughout our country, our state advocacy teams are working with local affiliates on atheist activism. Donate $5, $50, or $250 today, and you'll help increase their reach and power.
American Atheists is a 501(c)(3) non-partisan, nonprofit educational organization that relies on the support of members like you. Contributions are tax-deductible. Our Federal Tax ID Number is 74-2466507 and our Combined Federal Campaign number is 52217.
American Atheists
225 Cristiani Street
Cranford, NJ 07016
United States