This week, we have some exciting news! We have acquired OnlySky Media, a digital media platform created for and by atheists, agnostics, humanists, and all sorts of nonreligious people.
OnlySky was founded to tell the stories of the nonreligious community and protect secular democracy through journalism, storytelling, and commentary.
As Dale McGowan, Chief Content Officer, put it, "American Atheists is a natural partner for OnlySky. We both believe that it's vital to embrace the diversity of this community, along with our shared values, to build a better world today—and for those who come after us."
Over the coming months, American Atheists staff and OnlySky Media leadership will meet with writers, subscribers, and other stakeholders—including you—to plan the next phase of this platform's journey. Learn more
Telling the stories of our community—and lending a voice to the people affected by Christian Nationalist policies like we're seeing introduced all across the country right now—is the best way for us to reduce the stigma we face, challenge harmful stereotypes, build power, and win the fight to protect our rights.
Just this week, the Texas Senate passed legislation that would force every public school classroom to prominently display a copy of the Ten Commandments (the King James version, in case you were wondering). It's ironic that the people who scream the loudest about their supposed concern for "parents rights" and "indoctrination" have no problem trampling the rights of atheist parents when they want to indoctrinate kids with Christian Nationalist propaganda.
The Lt. Governor of Texas, Dan Patrick, had the audacity to claim that this bill would somehow protect religious freedom. "I believe that you cannot change the culture of the country until you change the culture of mankind," he said. "Bringing the Ten Commandments and prayer back to our public schools will enable our students to become better Texans."
So much for the freedom of atheists and religious minorities—and even the Christians and Jews who recognize a different version of the Ten Commandments!
To state the obvious: these bills are clearly unconstitutional and if they pass, we will sue.
The mainstream media is just starting to see how dangerous the threat of Christian Nationalism is to the rights of all Americans. They're only beginning to tell the stories of the people in our community who have left religion. That's where OnlySky comes in. We are excited about the opportunity to continue telling the stories people need to hear, and we hope you are, too.
I'm excited about this opportunity and look forward to sharing what comes next with you!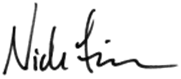 Nick Fish
President
P.S. Our work, including our ability to tell the stories that matter about atheists and the nonreligious, is only possible because of your support. If you believe, as I do, that strong, independent, and mission-driven media is important to change the narrative and protect our rights, please make a donation today. Whether you chip in $5, $15, $50, or more, you're making a difference.
American Atheists is a 501(c)(3) non-partisan, nonprofit educational organization that relies on the support of members like you. Contributions are tax-deductible. Our Federal Tax ID Number is 74-2466507 and our Combined Federal Campaign number is 52217.
American Atheists
225 Cristiani Street
Cranford, NJ 07016
United States