Our 2023 National Convention is kicking off in just 3 weeks!
And in Phoenix, you'll be able to help determine the course of the atheist movement. Our board members—including Jen Scott, Amanda Knief, Madison Paige, and Debby Williams—will be soliciting feedback from members like you during our Strategic Planning Panel.
With the Christian nationalist majority on the Supreme Court forcing its religion on all Americans, with state legislatures overrun by religious extremists and their anti-LGBTQ bills, with Christian nationalists gearing up for the 2024 elections, we must constantly reflect strategically. And to this end, we want to hear from you!
With your ticket in hand, you'll be able to voice your vision for the future. We can't wait to find out your ideas!
Not only will you be able to make your voice heard about the future, but you will also be able to prepare for it. During incredible workshops, you'll sharpen your activist skills with experts and meet atheists from across the country. And if you're new to activism, that's perfectly okay—even better!
Our convention has something for everyone! Whether you're a group leader, a long-time advocate, or brand new to atheism, we know you'll have a great time at AACon2023—and meet atheists from all across the country. So many members thank us every year for all the practical information they learn, the new people they meet, and the amazing time they have.
Our nation has changed so much since American Atheists was founded in 1963. But one thing remains the same: our national convention is the best place to connect with other atheists and learn from one another.
Make sure to tell your friends that it's not too late to register!
We'll see you there!
Sincerely,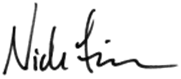 Nick Fish
President
American Atheists is a 501(c)(3) non-partisan, nonprofit educational organization that relies on the support of members like you. Contributions are tax-deductible. Our Federal Tax ID Number is 74-2466507 and our Combined Federal Campaign number is 52217.
American Atheists
225 Cristiani Street
Cranford, NJ 07016
United States