Get ready for awesome content creators at our 2023 National Convention!
From YouTubers to TikTokers to podcasters, these influencers are bringing the atheist perspective to a wide audience. And we're excited to have so many attend our convention—and speak on the mainstage.
Speakers Seth Andrews, Ricky Brock aka "CaptainDadPool", Rachel Klinger Cain, and Aaron Rabinowitz will bring fresh, interesting perspectives.
For over a decade, Seth Andrews has changed the lives of countless atheists with the popular Thinking Atheist—one of the most popular podcasts, YouTube channels, and online atheist communities in the world. He has helped so many of our members come out as atheists—and we can't wait to see what he has in store for us at the convention!
We're thrilled to have TikTokers Ricky Brock (@captaindadpool86) and Rachel Klinger Cain (@iblamebill). With almost a half-million subscribers each, these talented atheists are talking to a younger generation—calling out religious hypocrisy as they fight back against "Christian TikTok." Their perspectives are incredibly valuable and fascinating—and you'll find that out at our convention.
Aaron Rabinowitz, a philosopher by training, specializes in secular moral education and hosts two philosophy podcasts: Embrace the Void and Philosophers in Space. For a long time, America's mainstream Christian culture has prevented discussions around ethical non-monogamy. But with more and more people identifying as nonreligious, it's a discussion we must have—especially given non-monogamy's prevalence in secular communities.
You'll be able to join in on this and many more conversations at our convention!
And with content creators as special guests—including the one and only Aron Ra and the hosts of the Scathing Atheist podcast—you'll be in for a treat.
Fun and excitement await you in Phoenix on April 6–9!
With our convention less than a month away, now's the perfect time to purchase your AACon2023 tickets. We're looking forward to seeing you there!
Sincerely,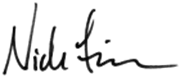 Nick Fish
President
American Atheists is a 501(c)(3) non-partisan, nonprofit educational organization that relies on the support of members like you. Contributions are tax-deductible. Our Federal Tax ID Number is 74-2466507 and our Combined Federal Campaign number is 52217.
American Atheists
225 Cristiani Street
Cranford, NJ 07016
United States