For decades, we have called for the end of the National Prayer Breakfast.
This Christian nationalist event is dangerous. Every year, lawmakers from both parties have come together and promoted the myth that the U.S. is a Christian nation. That ideology helps justify the Supreme Court's and state legislatures' attacks on our human and civil rights.
Just as disturbing, the National Prayer Breakfast has served to harm human and civil rights abroad. The organizers, The Family, have strategically used this event to peddle influence and connect religious extremists from around the world.
This year, we took a strong stand against the National Prayer Breakfast alongside a broad coalition of secular, religious, Black, LGBTQ+, and civil rights groups. Our community called on members of Congress to skip the event—with more than 2,000 actions by supporters like you. And it appears to have worked!
This week, after 70 years, The Family has dropped the National Prayer Breakfast, President Biden isn't attending, and almost every lawmaker is sitting it out.
There's no question that this is a victory we should celebrate. Without our combined efforts and hard work, The Family would have continued using this event to advance its extreme agenda.
Yet the work's not over. While the Family has ceded control and most lawmakers now see just how toxic this event truly is, the National Prayer Breakfast will continue.
The "new" organization that's taking over running the Breakfast is made up of many of the same people who ran the event in the past. Members of Congress and the President are still gathering for their own religious event on Capitol Hill. And while they may pretend that these events are about unifying Americans and that everyone is welcome, it's simply not true.
These performative, government-endorsed religious events send the unmistakable message that atheists and other nonreligious people are second-class citizens and that religion—rather than reason—has the power in government. 
Christian nationalists must not be allowed anywhere near the levers of power in the  federal government—or in the states. That's why it's so important for us to expose the extremists behind these supposedly "interfaith" events and shine a light on the anti-equality, anti-secular, and anti-democracy laws they support.
It's also vital for us to offer an alternative. Our new state advocacy teams are working across the country in states like Oklahoma, Virginia, Florida, and Colorado to ensure that atheist voices are being heard by state lawmakers.
The opportunity to defeat radical Christian nationalism is there. But unless we take advantage of this opening, extremists will continue to hold—and even gain—ground.
Take action today. Make a tax-deductible donation that will help defend your rights from insidious groups like The Family.
Sincerely,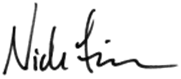 Nick Fish
President
Screenshot from CSPAN
American Atheists is a 501(c)(3) non-partisan, nonprofit educational organization that relies on the support of members like you. Contributions are tax-deductible. Our Federal Tax ID Number is 74-2466507 and our Combined Federal Campaign number is 52217.
American Atheists
225 Cristiani Street
Cranford, NJ 07016
United States