This week, American Atheists helped change the conversation around religious freedom.
Freedom of religion must include atheists, I said at the International Religious Freedom Summit. "Any nation that can take away your right to practice your religion can also force a religion onto [nonreligious people]. We're all in this together."
Yet this stance seemed counterintuitive to many religious conservatives. "What is an atheist doing at a religious freedom summit?" asked the Mormon Church's Deseret News. The conservative Washington Times also reacted with surprise. And on several occasions, attendees questioned our presence at the event.
But here's the truth: atheists are among the most ardent defenders of freedom of religion because it also protects freedom from religion.
If the government is going to respect Americans' freedom of religion that means freedom from conservative Christian abortion bans, freedom from religious propaganda in public schools, and freedom from any other religious imposition on atheists and other Americans.
As Senator Lankford (R-OK) himself put it, "Our nation was founded on the idea that you can have your faith, change your faith, or practice no faith at all and be respected as a human being and a citizen."
We must hold Senator Lankford and other members of the government to their word.
In December, we hosted an important event to support international religious freedom for humanists, atheists, and other nonreligious people.
And big names spoke—including U.S. Ambassador-at-Large for International Religious Freedom Rashad Hussain and Commissioner of the U.S. Commission on International Religious Freedom (USCIRF) Frederick Davie.
"The United States strongly supports freedom of religion or belief, including for those who do not have religious beliefs," said Hussain. "No one should have the religion or values of another imposed on them."
"USCIRF is steadfastly committed to promoting freedom of religion or belief for all, including humanists, atheists, freethinkers, and other nonbelievers," said Davie.
American Atheists is constantly working to influence government officials and thought leaders when they make important decisions that will affect this and future generations.
Thank you to everyone who supports this work. Without your help, these powerful individuals would only hear from religious representatives.
As we continue to defend the rights of atheists like you and me, make a tax-deductible donation that will guarantee more successes. Whether it's $25, $50, or $500, your support helps ensure that our community increasingly has a seat at the table. And with it, that the government takes our issues seriously.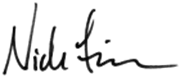 Nick Fish
President
American Atheists is a 501(c)(3) non-partisan, nonprofit educational organization that relies on the support of members like you. Contributions are tax-deductible. Our Federal Tax ID Number is 74-2466507 and our Combined Federal Campaign number is 52217.
American Atheists
225 Cristiani Street
Cranford, NJ 07016
United States