It's official: We've won!
In April, we filed a lawsuit in West Virginia on behalf of Andrew Miller, an atheist and secular humanist who was forced to participate in a religious substance use recovery program as a condition of his parole.
We are excited to announce that Andrew has officially been released thanks in no small part to our efforts. And the state of West Virginia has agreed to settle our lawsuit.
You can read our press release here for more details.
Here's what Andrew had to say about his ordeal: "The harm inflicted by these programs is very real. I was, for a period of time, essentially incarcerated simply because I am not a Christian. In order to secure my freedom, West Virginia forced me, an atheist, to act as an anti-atheist, to pray to a God I don't believe in, and to preach a gospel that condemns me. I tried time and again to be placed in a more suitable treatment program."
"Nobody should have to file a lawsuit to force the government to fulfill its constitutional obligation to protect the religious freedom of everyone, including atheists."
We are excited for Andrew, and grateful for your support. Our members make this work  — and, of course, these victories — possible.
In solidarity,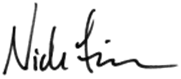 Nick Fish
President

P.S. — I hope you saw my message yesterday about Giving Tuesday. Your support today will help us win the next victory for someone like Andrew. Please consider making a tax-deductible gift to support our work in 2024 and beyond.
American Atheists is a 501(c)(3) non-partisan, nonprofit educational organization that relies on the support of members like you. Contributions are tax-deductible. Our Federal Tax ID Number is 74-2466507 and our Combined Federal Campaign number is 52217.
American Atheists
225 Cristiani Street
Cranford, NJ 07016
United States