You can disagree with President Biden for a whole host of reasons. But when it comes to education, the Biden Administration did the right thing this week.
The Department of Education released guidance instructing school staff to refrain from praying with students.
This guidance was needed. After the Supreme Court's recent decision in Kennedy v. Bremerton, Christian nationalists have incorrectly claimed that Kennedy allows teachers to indoctrinate students in Christianity. As the Department of Education's guidance explains, religious indoctrination is is still unconstitutional.
According to the Supreme Court, a coach gave a short, quiet, personal prayer at the end of a football game while students were otherwise occupied. As such, the Kennedy decision is limited to this narrow situation.
The Biden Administration's guidance will discourage public school districts from letting teachers act as preachers. "[We] praise the Biden Administration for working to protect the religious freedom of families whose children are in the public school system," we said, as reported by NPR.
This is a victory for atheist families across the country—and proof that the Biden Administration is listening to us, thanks to our advocacy.
Over the past two years, we have been putting pressure on the Biden Administration to do the right thing—and it's working. We've met with officials across government, including the Department of Education, Department of Justice, Department of Health and Human Services, and other agencies, to shape policy and protect atheists' rights.
In July 2022, the Biden Administration rejected a Trump-era policy that could have handed out millions of our tax dollars to unaccountable churches and religious groups through the Small Business Administration. The Biden Administration made this decision after our advocacy and after thousands of supporters like you submitted comments opposing this grift.
Then, in January of this year, the Biden Administration acted to have nine agencies once again protect vulnerable people from discrimination in the name of religion. We had sued the Trump Administration to stop this misguided effort—and to put pressure on the Biden Administration to change course.
With your support, we have ensured that atheists have a seat at the table within the Biden Administration, and it's been paying off—both this week and over the past two years.
Christian nationalist organizations are rolling in money, and we are on a very tight budget. It doesn't seem fair, but no matter the financial limitations, we're getting important work done, thanks to your activism and financial support.
Help ensure that we can keep doing just as much—and even expand our efforts. Make a tax-deductible donation today. Whether it's $15, $50, or even $500, it all helps.
We've fought hard for our seat at the table, but we can't stop there. We must increase our influence and power to save our country from Christian nationalism.
Sincerely,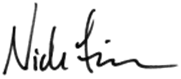 Nick Fish
President
American Atheists is a 501(c)(3) non-partisan, nonprofit educational organization that relies on the support of members like you. Contributions are tax-deductible. Our Federal Tax ID Number is 74-2466507 and our Combined Federal Campaign number is 52217.
American Atheists
225 Cristiani Street
Cranford, NJ 07016
United States