In less than two months, hundreds of your fellow atheists will be having the time of their lives in Phoenix on April 6-9—and you can be one of them!
Come experience all that our 2023 National Convention has to offer: amazing presentations, comedy and game nights, workshops, and the opportunity to meet atheists from across the country!
People who come to our conventions leave with friendships that literally last a lifetime.
Don't miss out on all the fun! Get your tickets today.
With four days of speakers, social events, service projects, and dozens of exhibitors and vendors, our annual conference has something for everyone.
Whether you want to learn more about the latest threats to church-state separation, build a strong local community group, or just enjoy spending time with new and old friends from across the country, we know you'll have a great time in Phoenix.
Not only that, you'll be able to take your organizing and activism skills to the next level in workshops and hands-on training, where you'll learn how to be a more effective activist in your state and community.
Get your tickets now for the atheist event of the year!
Sincerely,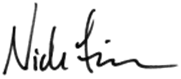 Nick Fish
President
P.S. Discounted rooms at the Hyatt Regency Phoenix are booking up fast. Before they're gone, get your tickets and accommodations to our 2023 National Convention!
American Atheists
225 Cristiani Street
Cranford, NJ 07016
United States
---
See previous blog post.