You've heard me talk a lot about white Christian nationalism and the threat it poses to our democracy. And you'd be forgiven for sometimes thinking that it's hyperbole to say that extremists are at the helm of many of our civic institutions.
But this week showed that our worries were justified.
With the election of Rep. Mike Johnson (R-LA) as Speaker of the House, we are witnessing the erosion of our democratic values in real time.
Johnson's slick and cordial appearance in tailored suits and glasses hides a history of extremist activism and an anti-democratic congressional record. As the New York Times spells out in its profile of Johnson, he combines a staunch anti-abortion stance and virulent anti-LGBTQ rhetoric with his active participation in attempting to overturn the 2020 election.
Prior to his career in politics, he served as the senior attorney and national media spokesperson for the so-called Alliance Defending Freedom, the extreme — and well-funded — legal arm of the Christian nationalist movement. When there, he wrote that being gay was "inherently unnatural" and "dangerous," compared LGBTQ people to pedophiles, and said that same-sex marriage would inevitably lead to people marrying their pets.
This year alone, Johnson has co-sponsored three different nationwide abortion ban bills. He has said that women need to give birth to more "able-bodied workers" to avoid cuts to Social Security. And he bragged about a Louisiana law that would sentence abortion providers to up to ten years of "hard labor."
He is a Young Earth Creationist and has previously represented Answers in Genesis, the group that built the taxpayer-subsidized Noah's Ark in Kentucky. He wants public school courses to teach the Bible "as an accurate record of history."
And when asked about his views about American democracy, he answered, "We don't live in a democracy," we live in a "biblical" republic.
It's this combination of extreme Christian nationalist credentials that enabled him to be elected as Speaker.
Last weekend, I spoke to a group of supporters at the Central Florida Freethought Community, about the existential threat that White Christian Nationalism poses to our democracy — and what we can do to fight back.
I talked about how this anti-democratic ideology believes that their god has ordained some people to rule, and others to be ruled. I talked about how the extreme, dehumanizing rhetoric of this movement can lead to violence. And I talked about how organizing at the grassroots — being prepared to fight back at every school board, city council, and state legislature — was the only way for us to win.
It will take all of us, and frankly all the allies we can engage, to fight back against this Christian nationalist takeover of not just the Speaker's chair, but also our civic and political institutions.
Please let your atheist voice be heard by supporting our work on the ground in all 50 states.
Silence is not an option. We have to confront this threat to our democracy head on. And we have to show what can happen when the wall of separation between religion and government starts to crumble.
In solidarity,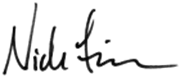 Nick Fish
President

American Atheists is a 501(c)(3) non-partisan, nonprofit educational organization that relies on the support of members like you. Contributions are tax-deductible. Our Federal Tax ID Number is 74-2466507 and our Combined Federal Campaign number is 52217.
American Atheists
225 Cristiani Street
Cranford, NJ 07016
United States