This week, we won an important victory in our lawsuit against the state of Mississippi.
Government officials have removed "In God We Trust" from the state's new license plate design.Getting everything we wanted and more, we have withdrawn our federal lawsuit.
"Mississippians will no longer be forced to act as billboards for the state's preferred Christian message," said our Litigation Counsel Geoffrey Blackwell. "Governor Tate Reeves made the right decision and respected all Mississippians' beliefs and rights with this new license plate."
By filing the lawsuit, we put pressure on Mississippi to do the right thing—and our strategy has paid off. The new magnolia-themed design is inclusive of all Mississippians—whether Christian, nonreligious, or a religious minority.
This is a step in the right direction for Mississippi—and it would never have happened had it not been for supporters like you.
Not only that, we have secured important free speech protections at the district court level. Before the new license plate is available, Mississippi drivers can confidently cover up "In God We Trust" on their license plates—thanks to our lawsuit! (They just can't obscure the letters and numbers that identify their vehicles.)
"If you'd like to take a black marker to 'In God We Trust' and scribble it out, you may legally do so in the state of Mississippi," explained Blackwell.
If Mississippi drivers are pulled over, harassed, or face discrimination for concealing "In God We Trust" on their license plates, we are prepared to take legal action on their behalf. We encourage them to report the incident to us.
We helped remove "In God We Trust" from Mississippi license plates, and we are proud to have done so on behalf of Mississippi atheists—and all atheists. This kind of litigation can take years—and cost tens of thousands of dollars—to see through to the end. This work is only possible because of the generosity of members like you. Will you support our litigation work with a tax-deductible gift of $5, $50, or $500 today?
Sincerely,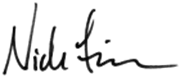 Nick Fish
President
PS: Despite this week's win, there's still more work to do. Right now, we're suing the state of West Virginia for forcing Andrew Miller, an atheist and secular humanist, to participate in a religious substance abuse treatment program and refusing to offer him any secular alternatives. No one should have to experience this sort of discrimination. Support Andrew's case by making a tax-deductible gift today.
American Atheists is a 501(c)(3) non-partisan, nonprofit educational organization that relies on the support of members like you. Contributions are tax-deductible. Our Federal Tax ID Number is 74-2466507 and our Combined Federal Campaign number is 52217.
American Atheists
225 Cristiani Street
Cranford, NJ 07016
United States